Thank you for visiting our website and wanting to learn more about the Ombudsman Program at Alternatives. Our program is dedicated to adults of any age living in a licensed long-term care facility whether it be a nursing home, assisted living, supportive living, shelter care or group home.
     A common question asked of me is what is an Ombudsman and what do they do? Ombudsman is not only a unique term, but an invaluable service. The ombudsman, first and foremost, is an advocate, educating and empowering individuals about his or her rights as a resident in a long-term care facility. The ombudsman can also investigate and resolve complaints made by or on behalf of the resident. The ombudsman helps residents and their families get questions answered and can provide a host of information such as facility selection, levels of care, regulations, nursing home procedures, Medicare and Medicaid.
     It is important to know that even in the absence of a referral, the ombudsman makes regular presence visits in all of the facilities to ensure individuals are aware of the program and know who to contact if and when help is needed. They also often provide education to the staff at the facility in the continuing effort to improve resident care and quality of life.          
     I hope you find our website helpful and informative. If you have further questions about the Ombudsman Program or would like to make a referral, please do not hesitate to call us. Our ombudsmen are here and ready to advocate for better quality of life for individuals in long-term care settings!
Sincerely,
                                         Brycie Wilson, Program Director
Ombudsman Program
---
Our Ombudsmen are advocates for residents who live in licensed, long-term care facilities, i.e. nursing homes, shelter care, assisted living, supportive living and group homes. Our program covers the following counties: Rock Island, Henry, Mercer, LaSalle, Putnam, Knox, Henderson, Warren, McDonough, Bureau, Hancock, Schuyler, Adams, Brown, Pike and Calhoun.
What does an Ombudsman do?
Visits facilities regularly to inform residents about ombudsman services and resident's rights.
Investigate & resolve complaints made by or on behalf of the residents.
Helps resident & family in getting questions answered and provide individual consultations.
Provides information on facility selection, different levels of care, regulations, nursing home procedures, Medicare/Medicaid and residents' rights.
Provides in-service education to nursing home staff.
Analyzes federal and state laws, rules and regulations & provides legislative advocacy.
How do you reach an Ombudsman?
To access the assistance of an ombudsman, all you have to do is call Alternatives. Anyone can call and can even remain anonymous if requested. There are a multitude of reasons to call and request the ombudsman's help including:
Violation of resident's rights or dignity.
Physical, verbal or mental abuse.
Inadequate or poor quality care.
Unreasonable confinement.
Accidents or improper handling.
Staff shortages and poor staff attitudes.
Family conflict.
Involuntary or improper discharge from facility.
Incompatible roommates.
Building safety issues, lack of cleanliness, pests.
Power of Attorney or guardianship issues.
End of life issues.
Once a referral is made, the ombudsman will visit the individual to determine next steps.
Call (309) 277-0167 or (800) 798-0988
What Happens When I Call?
You will be transferred to the Ombudsmen who will take an initial report and begin follow up for you.
Calls about abuse or neglect in a nursing home should be called into the Illinois Department of Public Health at
1-800-252-4343.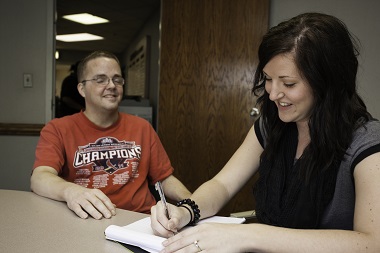 Unique Approach to Helping Residents during COVID-19: Check out our new friend who can go into nursing homes to visit with residents!