Thank you for connecting to the Money Management page for Alternatives.  Are you, or is someone you know, experiencing some difficulty in managing personal finances, such as:
Difficulty in managing finances?
     Late Payments?
         Eviction Notices?
             Physical challenges to manage finances (low vision or difficulty writing checks)?
                 A financial crisis?
                     Difficulty budgeting?
                         Using pay-day loans or rent-to-own?
                             Unable to track money?
                                 Forgetful?
                                     Low motivation to pay bills?
                                         Unopened or disorganized mail?
Please give us a call at Alternatives, we can help!  After placing a call to Alternatives, we may ask you a few questions to be sure we are connecting you with just the right resource.  If Money Management is deemed a good referral, we will connect you with a Money Management Coordinator.  The Coordinator will schedule a time to meet with you and together, develop a plan to meet your needs. 
Even if you just want to talk through a situation or make a referral for someone else, give us a call, we are here to help.
Sincerely,
                                                    Telly Papanikolaou, Program Director
Money Management Program
---
MMP is a volunteer program that matches trained and bonded volunteers with seniors who need help managing their finances. The volunteers can organize and pay bills, establish and maintain budgets, assist in applying for financial programs and assist with setting and achieving financial goals.
How do I know when to ask for help?
When you experience the following:
Difficulty managing finances
Late payments
Eviction notices
Cannot physically manage finances (low vision or difficulty writing checks)
Always in a financial crisis
Difficulty budgeting
Utilizes pay day loans or rent-to-own
Unable to track money
Forgetful
Low motivation to pay bills
Unopened or disorganized mail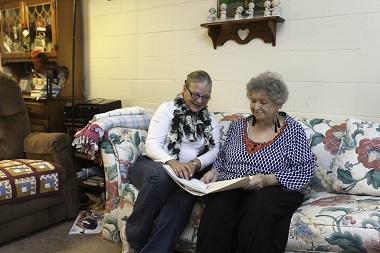 What Happens When I Call?
A care coordinator will talk to you to help you determine your needs. The care coordinator will make a referral to the money management program. At that point, the local money management coordinator will contact you to discuss options and set-up an appointment to visit.
Call (309) 277-0167 or (800) 798-0988